Spotlight On Dawnie Slabaugh
In fourth grade: She wanted to be a nurse when she grew up 
Favorite Quote: "If you don't ask, the answer is always no" 
CCPRO Buddy: Peter Griggs at Shasta College
Meet Dawnie Slabaugh, Director of Public Relations and College Foundation at College of the Siskiyous, located in Weed, California – the northernmost community college district in the state bordering the state of Oregon.
Dawnie has been a member of CCPRO since 1999 when she attended her first conference in Monterey with her predecessor, Dawna Cozzalio. While pursuing and earning an Associate Degree in Business from College of the Siskiyous, Dawnie began her career there as a student worker straight out of high school, progressing from Office Secretary, to Admin. Secretary, Admin. Specialist, then interim director, to her current position approximately 5 years ago. In that time she has worked for five of the college's 12 permanent presidents.
Before being hired as a student worker, Dawnie had various part-time jobs in retail roles where she
honed her customer service skills, which have served her well. She admits that one challenge she faces is staying current with technology as it evolves and changes so quickly as well as the current trends and legislation that needs to be followed. "I have to be prepared for any kind of situation that comes up, be
it Public Relations or the Foundation. I deal with a lot of different people with different personalities and backgrounds," she shared.

But talk about challenges – Dawnie was onsite in her current position when the Boles Fire broke out on September 15, 2014. That fire burned 479 acres, destroyed 150 homes and eight commercial businesses in the City of Weed, a community of approximately 3,000 residents. Miraculously only one person was injured throughout the entire six-day conflagration. And as the saying goes, "What doesn't kill you makes you stronger."
Dawnie rose to the occasion and took on a communications leadership role throughout the ordeal. Housing options for residents and students were lost. The K-8th grade school closed as well as the town's high school while some of their students were evacuated in a school bus heroically "four-wheeling" out of danger where no roads existed. Phone lines went down and there was, "complete and total chaos," says Slabaugh.
And, while College of the Siskiyous closed for one week, when its doors first reopened it served as a safe place where the many displaced residents and students were able to go. Dawnie stepped up to find resources for the community and as such the community came to see the college as communications central – the "Town Home" meeting place for city people, fire fighters, college leadership, and the media. The College also became the temporary home for two of the churches destroyed in the fire as well as the local community food pantry and various other businesses lost in the fire.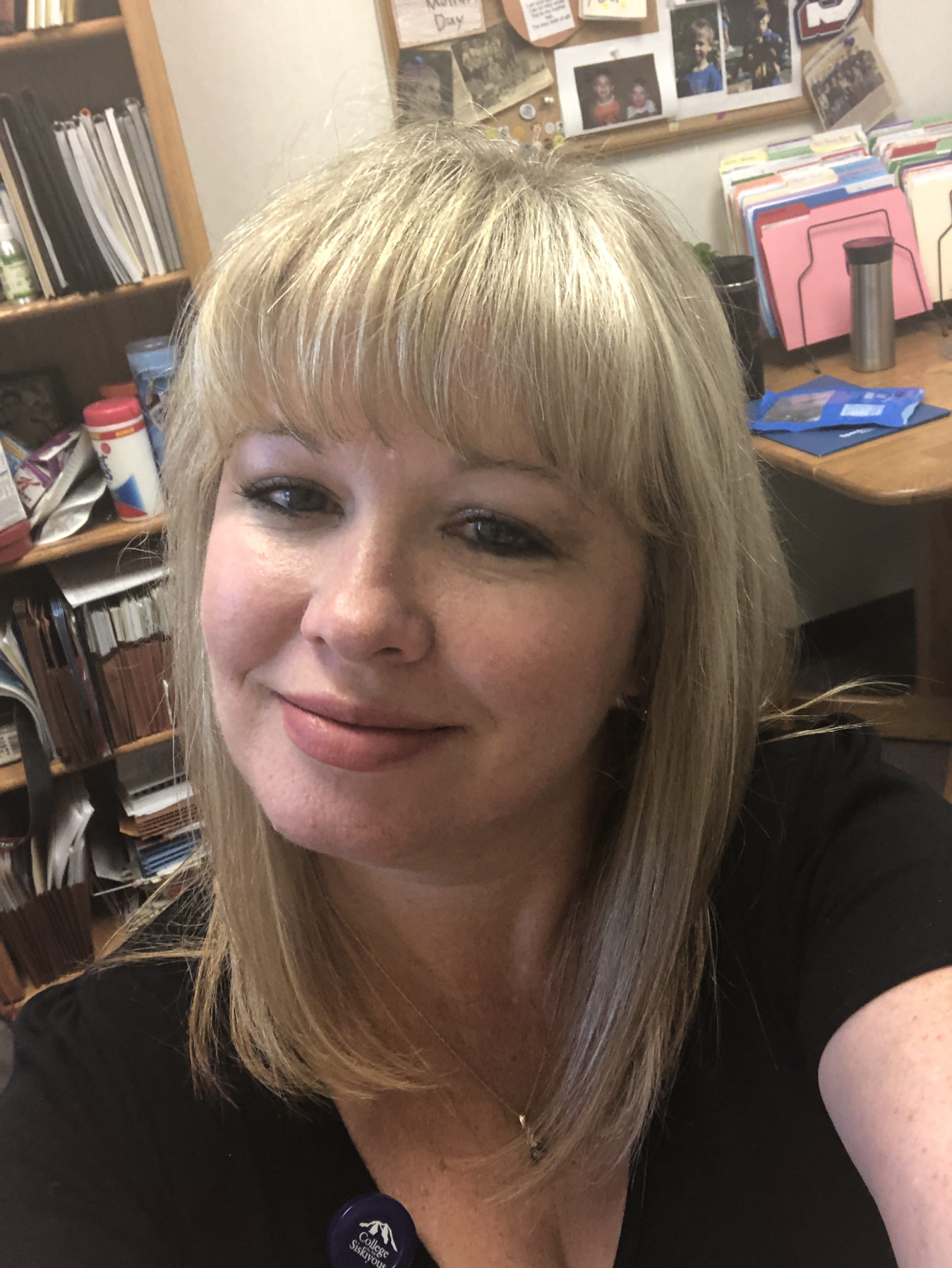 And what advice would Dawnie give to a new member attending a conference for the first time? "I would encourage them to talk to a lot of people. Ask questions, share demographics, similarities, and differences. Network and use it as a resource. Don't be afraid to ask questions." And she shares that between conferences she makes good use of the PIO-all listserv and puts out questions that she is pleased to have received a large number of responses.
Born in Northridge, Southern California, Dawnie moved at the age of three with her extended family to the Siskiyou mountain region community of Big Springs, which at the time had a a meeting hall and an elementary school, but has now grown to include a church and and a grocery store. Growing up as the oldest of five children and with four cousins in the mix, they had complete run of her grandparents' 25-acre farm with all kinds of animals. And her name? While her birth certificate says "Dawn," having an uncle named Don and a supervisor named Dawna, the nickname "Dawnie" evolved to help establish her as a unique individual.
In parting, Dawnie Slabaugh wanted to share that while most people think of San Francisco, Sacramento, or Napa as "Northern California," there is a whole lot more north of those cities. "We are different from the rest of Northern California, with beautiful views, clean air, and good people. It's a rural frontier and we have the best of everything we could want."